Environmental protection concerns us all
We at TIPP OIL have something good to do for environmental protection. Due to our unique concept, it is suitable for all of our deposit systems.
Lubricant suppliers I online shops I dealers I shops and petrol station operators I car dealerships I car workshops I wholesalers.
Take advantage of our advantages and take responsibility for environmental protection. We offer you free returns. You get 25 cents per piece as a refund from us.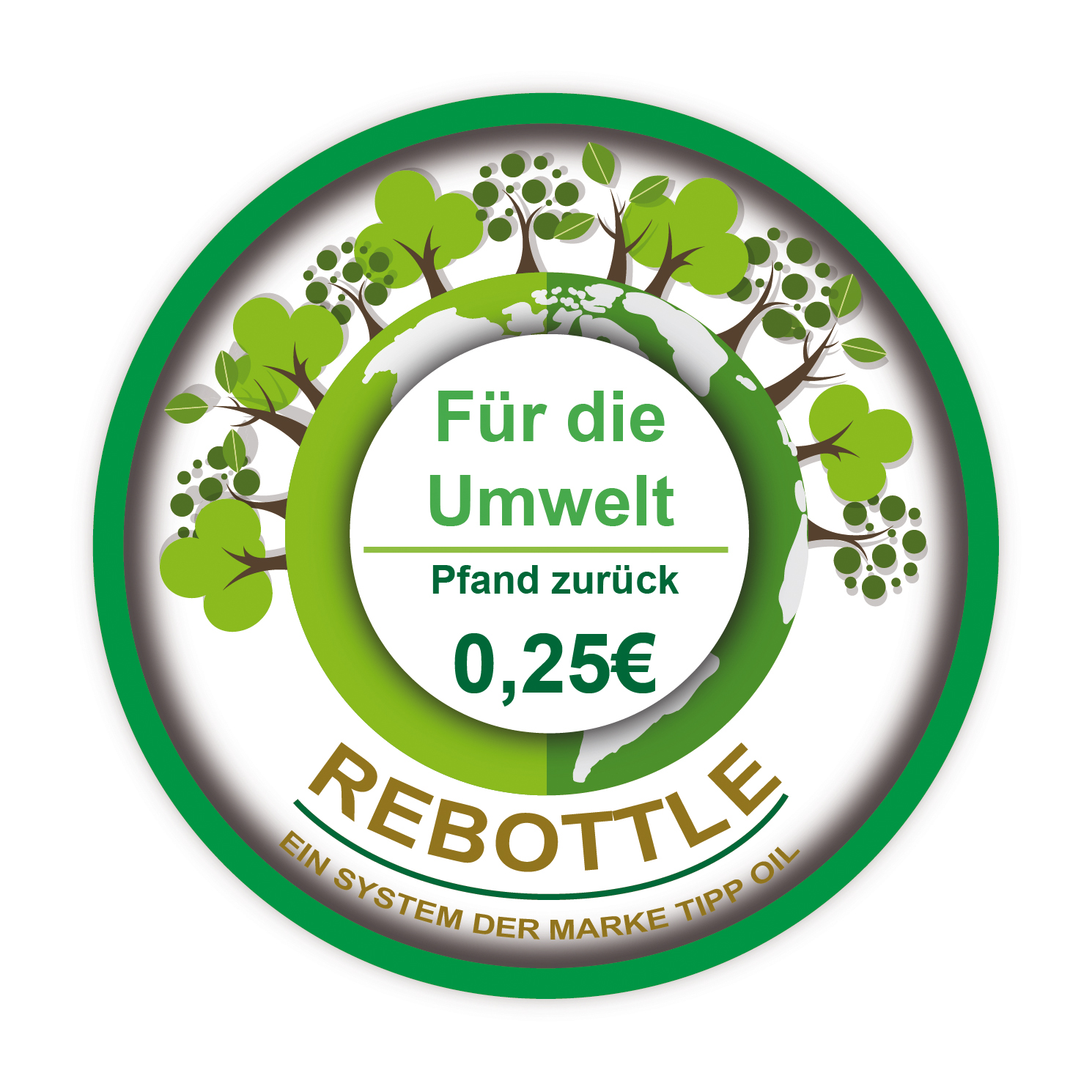 UNIQUE ADVANTAGES REBOTTLE SYSTEM:
1. REBOTTLE SEAL
2. Free Promotional Materials
3. Exclusive right in your region
4. Press Releases
5. Social Media Marketing
6. Appearance in our new catalog mineral oil tax OIL as a partner
7. Events and parties related to fuel tax OIL AND IPT
What advantages does your company have in a partnership with REBOTTLE ?:
Acquisition of new customers in the B2B sector and end consumers
Long-term cost savings
You help – DM environmental protection through recycling
You pay an annual franchise fee of 1000, – euros plus statutory VAT and enjoy the benefits of a Premium – Partnership with REBOTTLE
Register today at contact@Tippoil.com and start doing something good together with us for environmental protection.
Your trusted partner TIPP OIL
Authorized Lubricant Dealer
How do I become an Authorized Lubricant Dealer?
1. All potential traders must meet the following requirements
2. The potential distributor must send us the list of required documents by email to our employees. A company that is to obtain the status of an authorized dealer should provide the following documents: The potential distributor questionnaire is officially stamped and signed (scan) by the general manager. Scan of the letter of initiative, officially stamped and signed by the general manager. Monthly forecast purchase volume (in tons) divided by market segments (PVL, CVL, IND).
3. The decision to cede authorized distributor status will be made by the Tipp Oil Germany Ltd. Distribution Committee. met.
4. The granting of the status of trader will be considered by the distribution committee no less than once a month.
5. The representative of a potential representative may be invited to the meeting of the Distribution Committee.
6. The final decision of the committee will be sent to your email (specified in the questionnaire).
7. When becoming an authorized distributor, the set of documents should be provided to start a contract.